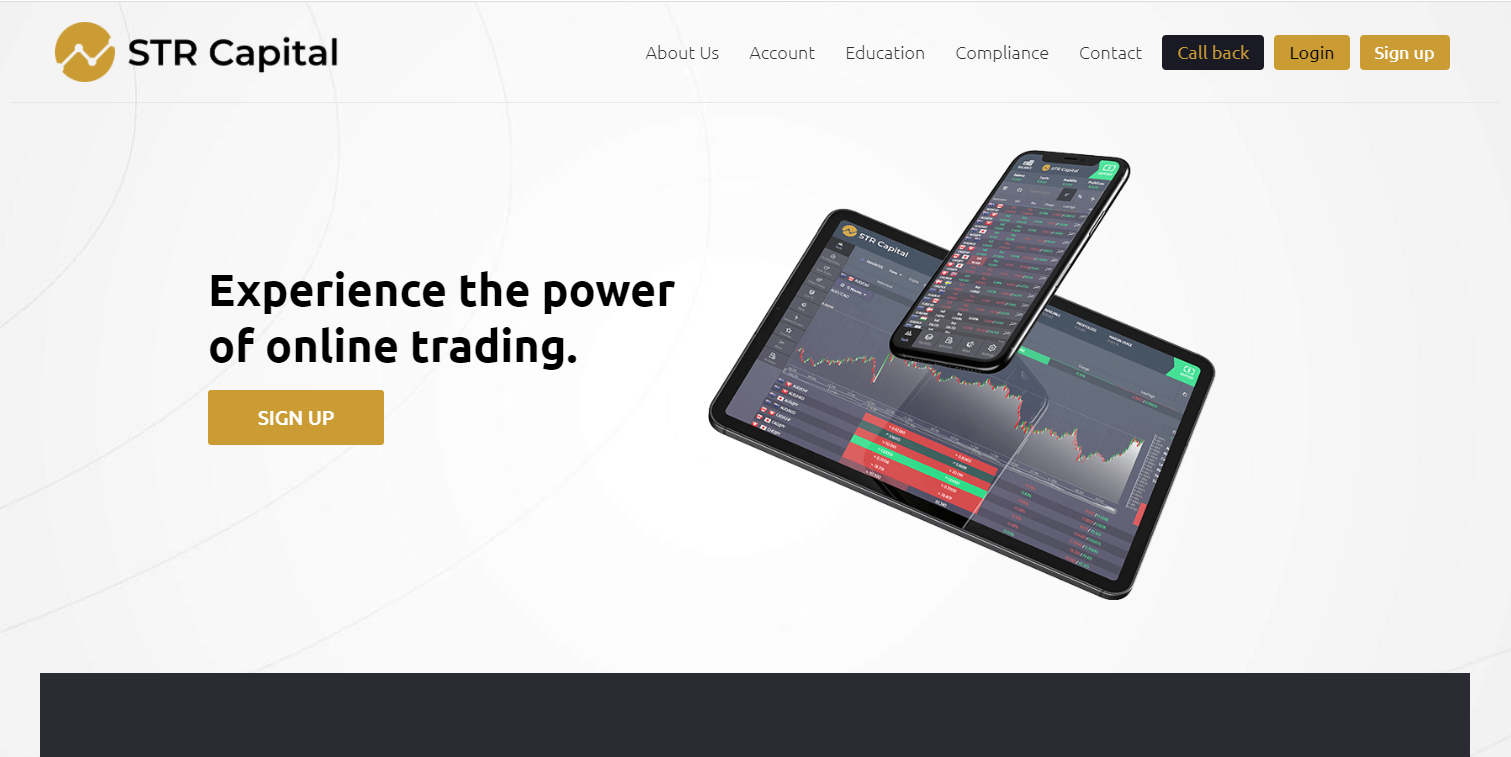 Overview
STR Capital aims to be a truly global CFD broker, enabling traders to trade on a platform that is both user-friendly and packed with useful features. Ensuring privacy, security, comfort, end-to-end service, proper customer support, and educational resources, the broker wants to be one of the top choices for traders wanting to get involved in the global financial markets.

Trading with STR Capital means access to thousands of different CFDs based on FX, crypto, indices, commodities, stocks based in the USA, Australia, Canada, and Europe, as well as ETFs and bonds. Also, the company relies on a multifunctional web-based platform designed in-house to offer a unique trading experience and all the necessary features in one place.
CFD Offer
To enable customers into experiencing the power of online trading, STR Capital provides a comprehensive CFD offer, with competitive trading conditions, depending on the account type chosen by each customer. Customers benefit from a diversified offer, having the ability to get involved in a multitude of markets and assets, all in one account.
The Forex trading offer includes major and secondary currency pairs, amounting to several tens of different FX instruments. Traders have access to both popular pairs like EUR/USD, GBPUSD, USDJPY, or USDCHF, but at the same time, they can enjoy trading minor or exotic pairs like EUR/MXN, EUR/NOK, GBP/AUD, AUD/CHF, and others. The maximum leverage is 1:200, the minimum trade size – one mini lot, spreads are competitive, and commissions are 0.2%.
Considering cryptocurrencies benefit from increased popularity, STR Capital had also included crypto in its offer. That means traders will get to trade Bitcoin, Ether, XRP, BCH, LTC, EOS, ADA, XLM, TRX, and many other crypto CFDs with up to 1:5 leverage.
Indices CFDs are part of the STR Capital offer, enabling traders to trade on a broad range of stock market indices around the world, as well as on the US dollar index and the volatility index. The leverage is 1:5 and traders need to take into account expiration dates for each contract.
Agricultural, energy, and metals are all included in the offer. Trading commodities is also popular in 2020, with a weakening US dollar and inflationary pressures expected to rise. STR Capital provides access to a multitude of commodity-based CFDs, which means customers can get involved in these markets.
Stocks from the USA, Australia, Canada, and Europe are included, allowing an opportunity to benefit from some of the leading global stocks, with up to 1:5 leverage and competitive trading costs. If stocks are too volatile for some traders, STR Capital had included major, equity, commodity, and bond ETFs, gaining exposure on a broad basket of assets, by trading a single instrument.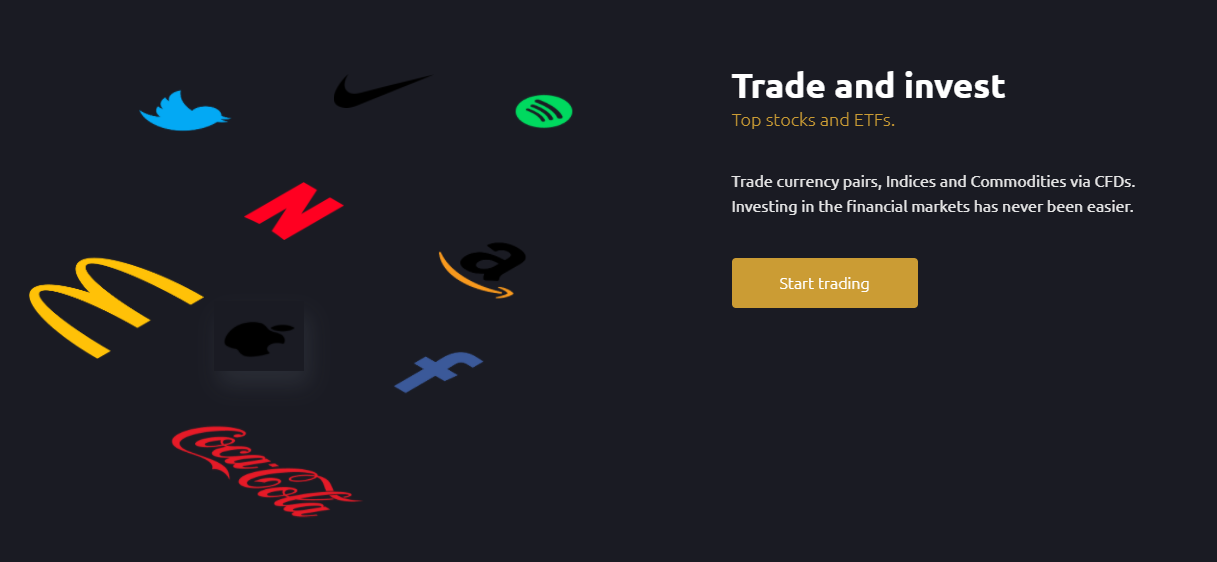 US, Canadian, Euro, Italian, and UK bonds are part of the STR Capital offer, even though bonds are not popular among retail CFD traders. Still, the broker ensures complete coverage of assets by providing access to a market that's dominated by institutional players.
To ensure that all traders can have access to its services, STR Capital has multiple account types available (Basic, Silver, Gold, Platinum, Diamond, and Millioner Club), each with different features based on the initial deposited amount. Advanced charts, exclusive updates, trading alerts, loyalty bonuses, insurance level, daily market reviews, saving account, account manager, money management, and a group of analysts are the features traders can get access by opening an account with STR Capital.
Platform
STR Capital had chosen to rely on a proprietary web-based platform instead of other popular software and from several different aspects, this might have been a good decision. The platform integrates multiple features (advanced charting, risk management tools, asset alerts, favorite lists, live TV, market news, and others) to ensure access to full account functionalities.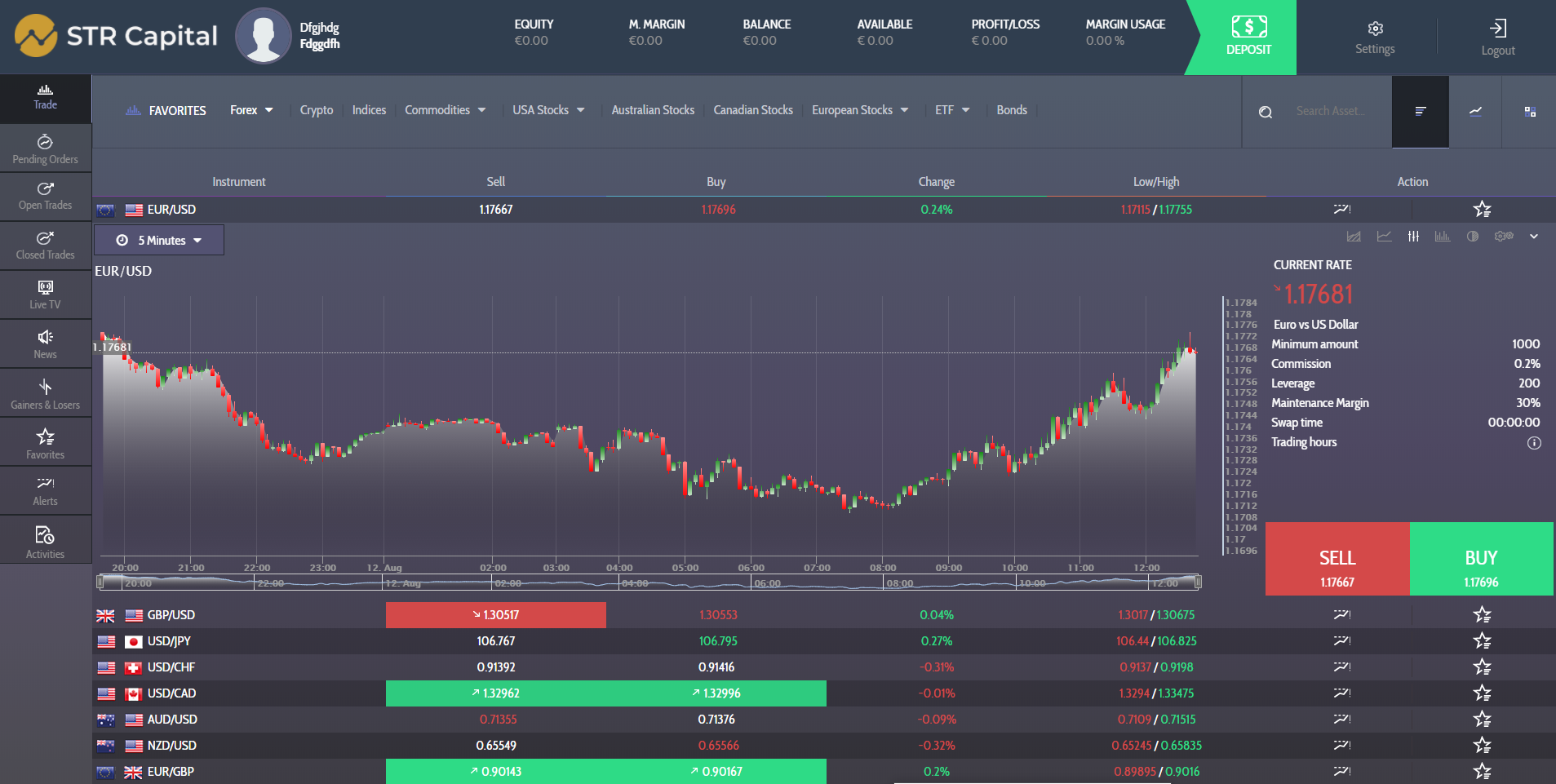 The platform is tailored towards offering an optimal trading experience, but at the same time, it allows customers to make deposits/withdrawals (credit/debit card, bank transfer, iPay, and others), adjust profile information, access the saving account and others. It is designed to work both for beginners and advanced traders since it has a simple interface and intuitive structure.
Customer Service
To contact an STR Capital representative, people can request a callback, use the phone number or the "Contact Us" form, and the official support email address. The broker provides support for those who need information about the trading services, or those who encounter any technical issue along the way.
Conclusion
STR Capital qualifies as a global CFD provider, given its broad coverage of instruments and the fact that it accepts customers from all around the world, except jurisdictions where the services might be contrary to local law or regulation. STR Capital wants to incentivize its customers into choosing these services via multiple trading benefits, including loyalty bonuses, trading alerts, daily market reviews, assistance from an account manager, or money management.
STR Capital Review
Trading Platform

Languages

Spread

Support