[ad_1]

Litecoin (LTC) has been one of the leading altcoins on the market for many years now. In fact, with over five years as one of Bitcoin's leading competitors, many wouldn't consider it an altcoin at all.
In this article, we're going to show you how and where you can get Litecoin so you can start using what may be the digital currency of the future.
What is Litecoin?
One of the earliest forks of Bitcoin, Litecoin was designed to create a faster, cheaper alternative method of payment. While sharing many of Bitcoin's technical details, Litecoin's network processes blocks faster. As a result, it may be more attractive for mainstream commercial use cases. Like Bitcoin, Litecoin operates via a Proof of Work mining algorithm. With this, users all around the world maintain the network by providing computing power.
Since its release in 2011, Litecoin has spent much of its existence as one of the most valuable coins by market cap. For a number of years, it held the #2 spot behind Bitcoin, before Ethereum's rise in 2016.
Today, there is a circulating supply of over 58 million Litecoin. Over 200 businesses worldwide are accepting Litecoin, according to the Litecoin Foundation.
Where Can I Keep My Litecoin?
As one of the most popular, longest standing cryptocurrencies, almost all leading wallet providers support Litecoin.
If you're all in on Litecoin, or you're interested in mining Litecoin, you will most likely want to download the official Litecoin Core wallet. Another option is Loafwallet, an open-source, standalone Litecoin wallet built by Litecoin founder Charlie Lee.
To keep Litecoin and all your other coins in one place, you should get a secure, reputable multi-currency wallet. Jaxx and Coinomi offer great, user-friendly wallets for mobile or desktop. While a hardware wallet such as the Ledger Nano S provides the ultimate in security for your crypto.
Five of the Best Places to Buy Litecoin
Skipping the middleman and mining Litecoin yourself takes considerable resources and significant upfront investment. If you have to get your hands on Litecoin and participate in the digital economy right now, here are five of the best ways to get started.
Coinbase
One of the world's leading crypto exchanges, Coinbase is the best entry point for someone starting in crypto from the ground floor. They offer users the ability to purchase several major cryptocurrencies directly with USD or EUR. These include Litecoin, Bitcoin, Ethereum, Bitcoin Cash and Ethereum Classic.
While it doesn't offer as many features as other crypto exchanges, the simplicity of their user experience makes it so accessible for beginners looking to get their feet wet. Coinbase also keeps your funds in a wallet on their platform (which is not ideal). But all funds are insured by Coinbase against security threats.
Kraken
Kraken is a sophisticated exchange, which allows users to buy, sell and margin trade crypto. Users can buy some coins directly with Fiat, including USD and EUR pairs for Litecoin.
Kraken also offers Bitcoin pairs for Canadian Dollars, British Pounds and Japanese Yen. So users of these currencies can get into Litecoin by purchasing Bitcoin, and then trade for LTC on the same platform.
Bitstamp

Operating since 2011, European-based Bitstamp is a time-tested platform for users wishing to trade major coins with high liquidity. Bitstamp users can pay with USD or EUR for Bitcoin, Bitcoin Cash, Ethereum, Ripple and Litecoin.
Once you've bought your Litecoin, Bitstamp offers high-level options to trade all these coins with BTC, including limit and stop-loss orders (automated settings to buy/sell when a coin hits a specific price). However, if you want to trade Litecoin with other altcoins, you'll need to move to another exchange, such as Binance.
Coinmama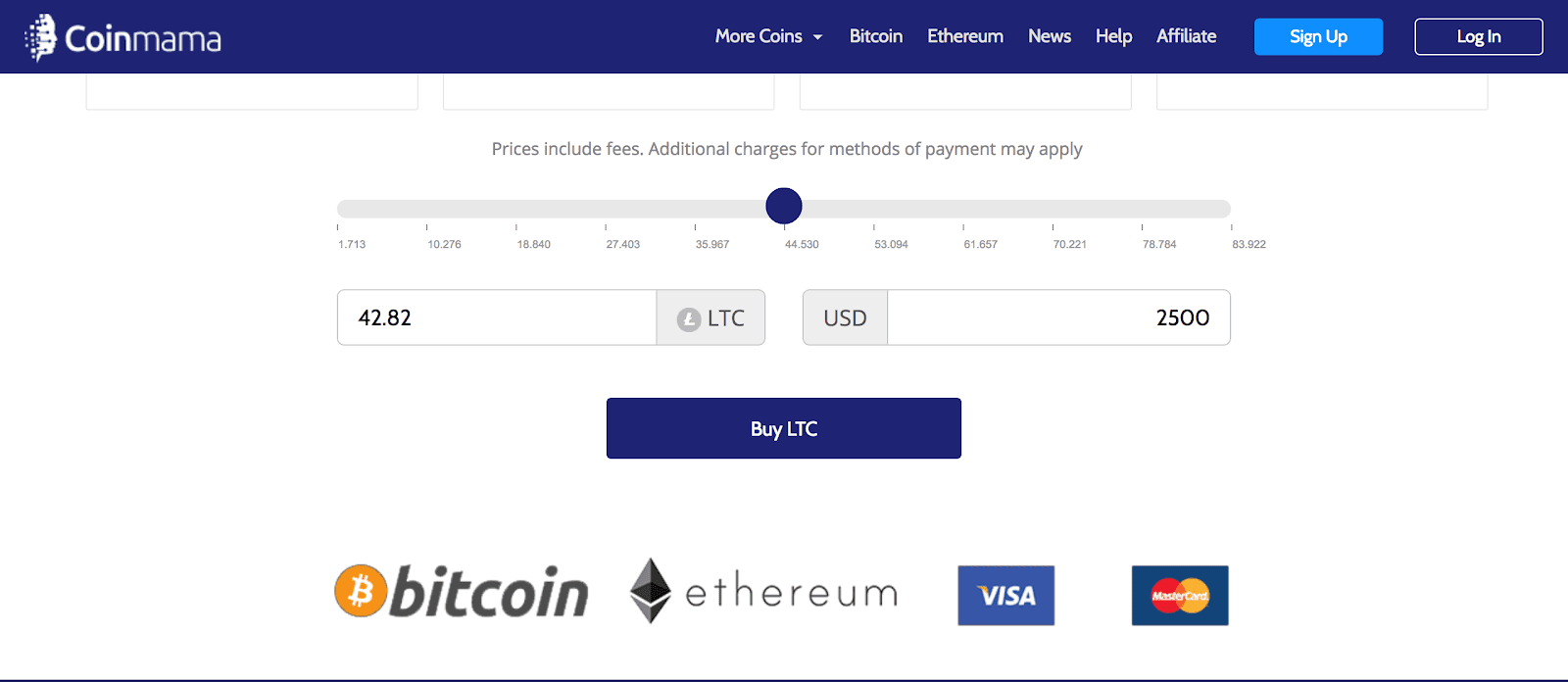 Unlike many of the others on this list, Coinmama isn't an exchange. Instead, it's a simple, easy-to-use site where people can buy crypto with a credit card.
You'll need to find another exchange to start trading, or if you want to exchange any of your crypto back to fiat. But the convenience of Coinmama makes it a great place to buy your first crypto.
Currently, Coinmama users can buy Bitcoin, Bitcoin Cash, Ethereum, Ethereum Classic, Ripple, Litecoin, Qtum, and Cardano.
Huobi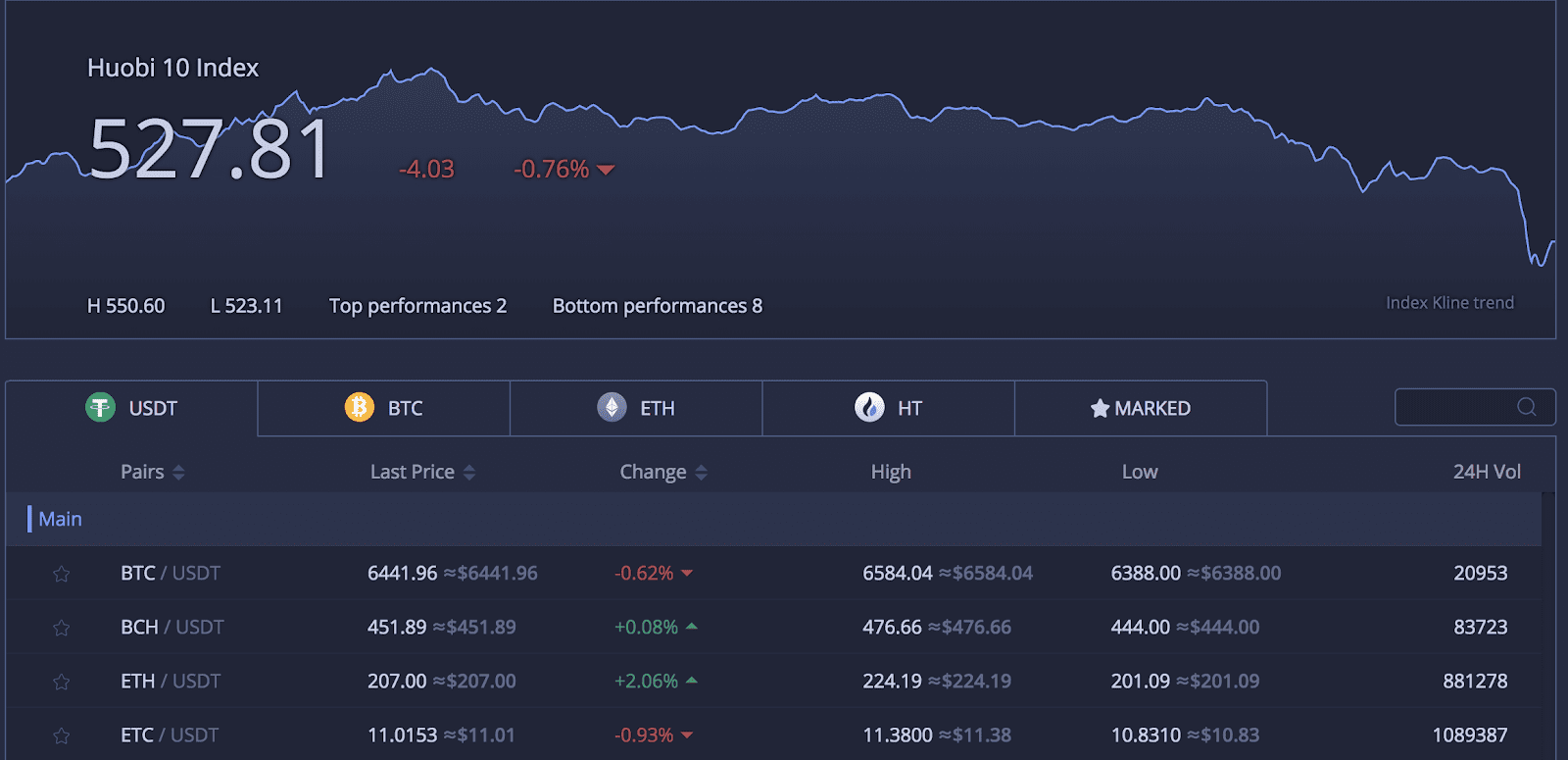 Huobi has been one of the leading crypto exchanges in the world for a number of years now. Founded in China in 2013, it is now based in Singapore, with offices all over the world. Huobi has web and mobile options, on both of which users can buy several coins via their "Huobi OTC" platform.
Right now, you cannot buy Litecoin directly with fiat. Supported coins for OTC purchase are BTC, ETH, USDT, EOS and HT, Huobi's native token. However, you can easily buy any of these coins and then exchange for Litecoin on Huobi Pro, their high-level, popular crypto exchange platform.
The big advantage of Huobi is a huge number of coins available for trading – almost every cryptocurrency worth knowing about, from Bitcoin, Ethereum and Litecoin to Neo, Tron, VeChain and many, many more. They also let you hedge positions during a downswing by converting to and from Tether.
So Why Wait?
There are many easy, safe, secure ways to get your hands on Litecoin. The cheap, fast transactions afforded by Litecoin have made it a popular alternative to Bitcoin for years. While the similarities in the code mean it shares many of the same positives.
If you want to get into the altcoin market, or you're planning to pay with crypto with progressive merchants worldwide, check out these sites and start using Litecoin today.
!function(f,b,e,v,n,t,s){if(f.fbq)return;n=f.fbq=function(){n.callMethod?
n.callMethod.apply(n,arguments):n.queue.push(arguments)};if(!f._fbq)f._fbq=n;
n.push=n;n.loaded=!0;n.version='2.0′;n.queue=[];t=b.createElement(e);t.async=!0;
t.src=v;s=b.getElementsByTagName(e)[0];s.parentNode.insertBefore(t,s)}(window,
document,'script','https://connect.facebook.net/en_US/fbevents.js');
fbq('init', '302755523634697' ); fbq('track', 'PageView');
[ad_2]

Source link