[ad_1]

OneLedger (OLT) is an underrated, universal cross-ledger protocol that benefits from side chains to increase interoperability between different blockchain ecosystems. What does that mean? It's an all-in-one blockchain solution available to users, developers, and businesses.
Source: https://icobattle.com/
The idea of sidechains is not groundbreaking. We've already heard of similar ICOs from the likes of Aion, LISK, EOS, Ark, and Icon. However, OneLedger is capable of outshining all.
Transfer Digital Assets Between Different Blockchains
Today, companies are tapping into blockchain technology to streamline administrative processes, reduce human errors, minimize operation costs, and increase transparency. However, the mainstream adoption of the blockchain technology still faces challenges. The transition is not easy, and businesses approach it with varying degrees of speed and success.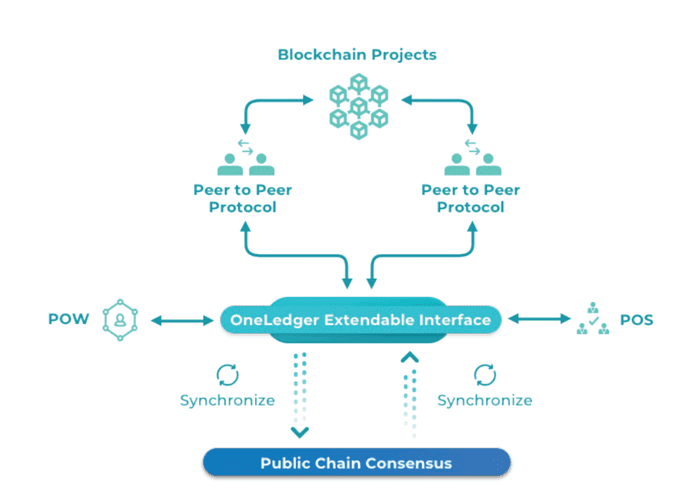 Source: https://oneledger.io
One of these challenges is the lack of interoperability – the inability of different blockchains to communicate which each other. For instance, it is impossible to make a transaction from an Ethereum account to a BTC one. This process to do so involves transferrin to one chain before sending coins. This is costly, time-consuming and involves significant third-party help (exchanges, for example). Other significant problems that prevent the mainstream adoption of blockchain technology are the multi-network deployment of dApps, scalability, and existing legacy systems.
OneLedger is a blockchain startup designed to offer a solution for these issues. It facilitates cross-ledger operations. Its protocol can be synchronized with other distributed ledgers such as Ethereum, Bitcoin, etc…that support payment channels and hash time lock contracts (HTLC).
OneLedger Business Initialization
OneLedger is a three-layer consensus protocol that integrates effectively with different blockchains.
1.    Business Initialization
The first layer is a configurable role-based consensus protocol – where a generalized contract begins. The contract is generated and deployed within the network running different blockchain codes. In Bitcoin nodes, the contract is replicated from the genesis contract when nodes are created. In Ethereum node, the contract is executed in the form of a smart-contract.
2.    Channel Consensus
The second layer is known as the Channel Consensus. Its main role is to execute interactions between nodes, according to the terms of the contract. To achieve the second consensus, sidechain consensus is carried out among all participants. The consensus is reached when over two-thirds of the participants have agreed. Once consensus is achieved, data is written to a block and broadcasted to all nodes (participants).
3.    Public chain consensus
The third (last layer) is called 'Public Chain Consensus.' This one is needed whenever one requests a transfer of digital assets between public chains. As a result, the sidechain pre-consensus is initiated at the start of sidechain consensus. Once the proposal is sent to the appropriate public chain, validators vote to lock or unlock a block. If more than 75% of the sidechain of participating nodes reach consensus, the pre-consensus block is added to the ledger.
The Token
OneLedger is currently conducting an Initial Coin Offering with a hard cap of $15 million. One billion OLT tokens will be pre-mined. Each token will initially be mapped to one corresponding ERC-20 token.
According to the token economics of OneLedger, three participants will utilize the OLT.
Users: Individuals or businesses who/that are required to pay a transaction fee to the network supporters or nodes in OLTs.
Nodes: Network fees go to nodes; paid in OLT. The OneLedger ecosystem allows anyone to run a node at first. As the system matures, a certain fee in OLT is required.
Developers: These could be teams or individual contributors. Developers will need OLT tokens to deploy their modules to OneLedger's decentralized marketplace. The smart contract will define the terms of sales.
Developers and Advisors
The idea behind OneLedger was the brainchild of David Cao, the Chairman of Canada China Blockchain Professional Association (CCBPA). Mr. Cao has more than 13 years of experience in enterprise architecture and blockchain technology. He has also worked at Xerox as a Lead Commerce Consultant, and at IBM Toronto Lab as WebSphere Commerce Developer.
The founder and CEO of Trust 2 Pay, Alex Todd, is also the Chief Technology Advisor of OneLedger. Stephen Lee is the Lead Engineer. He has worked as a software engineer at Microsoft and IBM as well as a Senior Consultant at Deutsche Bank.
The first version of the OneLedger platform will be released in 2019.
Final Thoughts
OneLedger seems to provide a great solution to some current and pressing needs within the blockchain ecosystem.
OverLedger, Aion, and Cosmos are considered to be the main competitors of OneLedger regarding interoperability.
!function(f,b,e,v,n,t,s){if(f.fbq)return;n=f.fbq=function(){n.callMethod?
n.callMethod.apply(n,arguments):n.queue.push(arguments)};if(!f._fbq)f._fbq=n;
n.push=n;n.loaded=!0;n.version='2.0′;n.queue=[];t=b.createElement(e);t.async=!0;
t.src=v;s=b.getElementsByTagName(e)[0];s.parentNode.insertBefore(t,s)}(window,
document,'script','https://connect.facebook.net/en_US/fbevents.js');
fbq('init', '302755523634697' ); fbq('track', 'PageView');
[ad_2]

Source link