Intro into the Company
Clicktrades is a trading name owned by Key Way Solutions Ltd, which is located in Limassol, Cyprus, and operated by KW Investments Limited, a company authorized and regulated by the Seychelles Financial Authority. Currently, the broker offers trading services for CFDs based on ETFs, Forex, bonds, indices, shares, commodities, and cryptocurrencies.
At first glance, Clicktrades looks like a company that wanted to come with an original trading offer, but as we will see in the following paragraph, this carries both positive and negative aspects. Here are some of the most important features available right now.
Trading Software
This is one of the companies that did not want diversity in terms of trading platforms and is instead focused on a single web-based solution that's compatible with any type of device (desktop, laptop, and mobile devices). The Clicktrades web trader is intuitive and easy-to-use, having most of the features seen with other popular platforms.
Based on the information provided by the company, this is a platform built with the latest technologies and developed for fast-execution trading on +2100 trading instruments. It comes with a series of free analysis tools, out of which the most important one is the Trading Central. It also has an economic calendar, constantly updated with the latest technical indicators.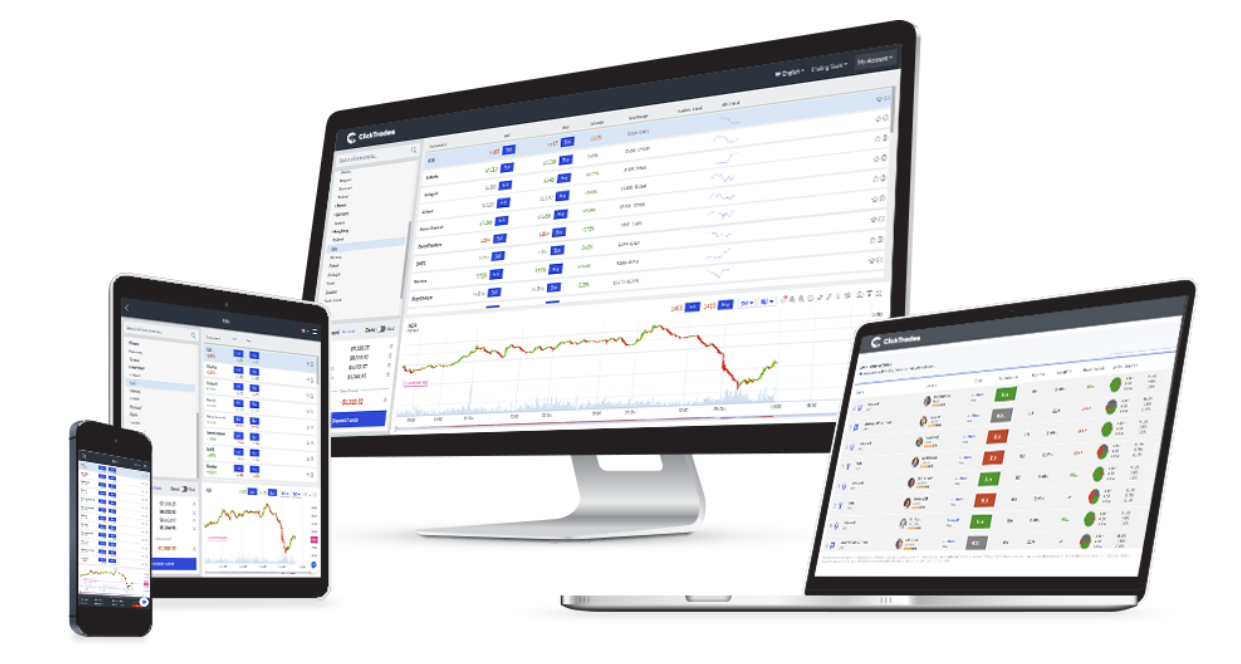 Trading Features
One of the most important decisions made by Clicktrades was to integrate the Trading Central feature into its web-trading platform. This is a dynamic analysis tool for every trader that had become very popular among most of the brokerage companies. Using it, traders will be backed in their trading decisions by a top leading analysis tool developed by a brand with 20 years in the field.
Traders wanting to work with Clicktrades will get to choose between three different account types: Essential, Original, and Signature. Trading conditions are decent but relatively weak for the basic account (Essential). Clients who can afford to deposit more will get access to special trading conditions and the Trading Central feature. The maximum leverage is 1:300 and spreads are fixed, relatively high as compared to most of the popular brokers.

Helpful Resources
All Clicktrades clients get access to daily market reviews and financial research. Also, daily analyst recommendations (provided by a third party) and full access to a video library are ensured. Open access to research is only available for original and signature account holders.
Pros and Cons
– A company with an original trading offer.
– More than 2,100 trading instruments covering 7 different markets.
– Plenty of educational and analysis material for beginners.
– Regulated by a weak agency.
– Only one trading platform available.
– Trading Central available only for Signature account holders.
Summary
Based on all the arguments, Clicktrades is a company that wanted to provide an original trading solution, but as seen in our review, it carries both positives and negatives. It will be an important step forward if the company will try to get regulatory approval for other popular agencies, in order to gain more reputation.
Visit clicktrades Broker